Specializing in Artifacts and Dug Relics
clifford@joshuasattic.com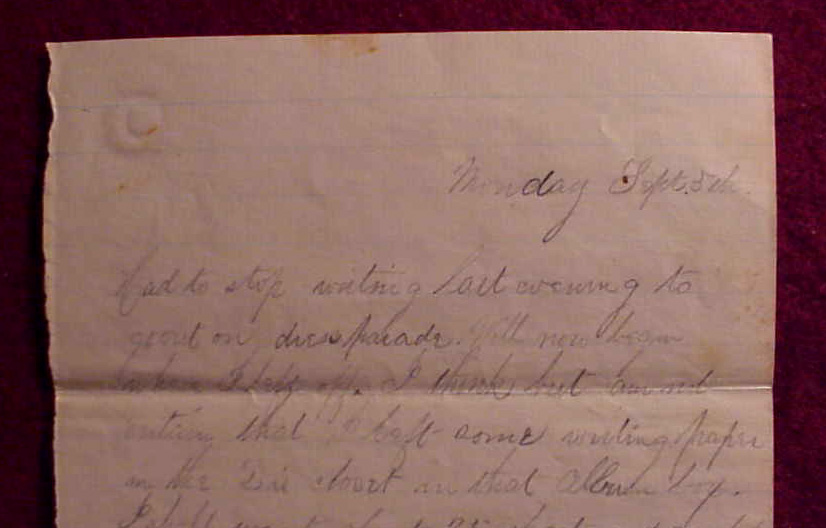 #8454 - 1864 Letter Mass Trooper asks No Bologna.


This is a Sept 5th, 1864 pencil-written letter home from 42-nd Massachusetts Infantry Corporal Benjamin F. Treadwell in Alexandria. Has envelop but no stamp. Text: "Monday Sept 5th. Had to stop writing last evening to go out on dress parade. Will now begtin where I left off. I think but am not certain that I left some writing paper in the Drs chest in that Album box. I shall want about 25 sheets and envelopes if you buy, get it a little smaller. One thing I almost forgot. One thing. Pleae get some dark blue tape 5/8 to one inch in width and sew it on these army pants which are in closet- front of the seam. If you cant get any tape suitable go to any military store and ask them for corps tape. Put in either that blue Gillmore hat of mine or that black one of B. the worst one. Want abourt 1 lb of brown sugar 1/2 pound dried beef if you can get some that is not moist. Dont send any Bologna. Put in something to read. A little tea- this that we have here does not taste any more like tea than coffee. 6 No. 14 turn down paper collars to wear to church. If you can cook potatoe corn starch without eggs send me a few dozen and directions for cooking. Fill me a few of Hunters ginger snaps. If you send the box in 4 or 5 days after you get this it will be time enough for I may think something else before that time. Some of the nights are quite cold but we are going to draw overcoats. I am first rate, weigh about as much as I did when home there. If any kind friend wants to send any small thing so be it. Send by Adams Express. Your affectionate brother. Benj. F. Treadwell. PS Direct: Co. A, 42 nd Regt Mass V.M. Alexandria, Va. Care of Capt. French."
Type: preserved | Condition: Fine | Price: 58
Policies | Guaranteed Authenticity | Collecting | Purchase/Payments | Shipping