Specializing in Artifacts and Dug Relics
clifford@joshuasattic.com
610-917-1167
MODERN COLLECTIBLES & SUPPLIES
Miniature Soldiers and Military Models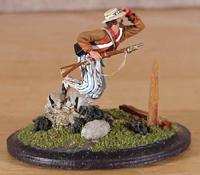 Miniature hand painted soldiers have been popular for almost a century with collectors. While many varieties were mass produced by Speciality Companies, the most prized are those individually hand painted by artists who are also hobbyists. These days, many model soldiers are fabricated from plastic and resins. The surface painted details, or "look," may be fine. But, to the purist Collector, the "gold standard" is still the mold produced "lead soldier" (nowadays, a safe pewter-like alloy)". They have weight and heft, like the characters of the men that they represent.
Joshua's Attic Gallery of Modern Collectibles is proud to present for sale the Hand painted, Individually designed Military Miniatures of Matthew J. Catania, Esq. For well over three decades, Matthew, the older brother of the owner, has been carefully detailing soldiers and dioramas representative of various theaters of war through recent Centuries,. The Civil War has always been a particular Favorite. And frankly, it was the sight of these beautiful creations over the years that inspired our family to admire and collect from this Period.
I can say that these pieces are among the finest hand done artist miniatures that can be bought on the modern market. We offer men from both the Blue and Grey; from all Branches of Service; in individual settings or group/battle scene dioramas. Not only are the figures well-detailed, but the scenery of brush, trees, walls, and even earthen works are hand painted.
Finally, customers are encouraged to request Specific regimental regalia and uniform variations. These pieces can be customized to your wishes. Perhaps, to honor a past ancestor, or a reenactment group to which you belong. Even hair color can be chosen! And if desired specific battle scenes involving 5-10 figures can be constructed to show men breaching enemy breastworks, storming cannon, or fighting from horseback! Of course, the more vivid your imagination, the larger your bill!!!
We request you direct specific questions about cost to the Owners and Artist. After considering the amount of work involved, we can give you an exact delivered price. But please be aware these are custom works that involve many hours. So, payment will be in advance and non-refundable in its entirety. Never the less, we'd be glad to modify small areas of color and the facial features slightly to your liking for free.
Please view some representative works that we have in our collections. The prices that the Artist would charge for similar works are listed in order to give you some ballpark. As with everything, you pay to get quality merchandise. And unlike photographic images and books, these Collectibles are in vivid, colorful 3D!!!
They'd make an excellent Birthday, Father's Day, or Holiday Gift surprise!!!
Go to next page - Custom Relic Boards and Mounts
Policies | Guaranteed Authenticity | About Collecting | Purchase/Payments | Shipping